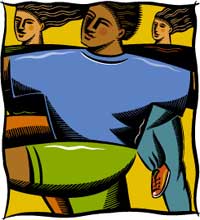 This story was told by the famous Fitness Model Beth Horn:

"I won my first two titles as the overall regional fitness champion in June of 1998. A month later I placed 8th in my first national competition. I went on to my second national competition and placed 3rd. I just missed my dream of achieving professional stats (only top 2 receive pro card- I was 3rd.) I was disappointed at first, but everything happens for a reason. In 1999.

I continued to place in the top 5 at the national shows. In 2000, I placed third at the USA's in Vegas and a week later I placed 3rd once again at the Team Universe in New York. I was so frustrated. Five days later, I broke two bones in my right foot! I took a month off to let my body heal and rest. 8 weeks later I won the overall title at the National Fitness Championships! This was truly a dream come true. It was one of the most amazing experiences of my life. ALL my hard work from the past 21/2 years had paid off. I am now a fitness professional. My positive mental attitude helped me achieve my highest expectations and will continue to do so.

I am very proud of myself- one of the best, all natural bodies in the world. I would have never gotten this far if it weren't for my trainer, Bob Dixon. I am very lucky to have Bob. He truly cares very much about my dreams & goals and supports me 100%. Determination, dedication, discipline and perseverance got me to the top. I truly believe you can do whatever you put your mind to. I was determined to win the overall title as the National Champion of the millennium and I did it. You create in your mind what you want to happen. It took me 21/2 years, but I never gave up, even after breaking my foot just weeks before the competition. I will continue to compete at this professional level and hope to go to the Olympics in this sport. I continue to promote fitness to all people through my own experiences and training. I will reach out to all those who want to live a healthy lifestyle, as long as a long, fulfilling, energetic life. I will continue to help other fitness competitors live out their dreams. My modeling career also continues to expand and grow. "